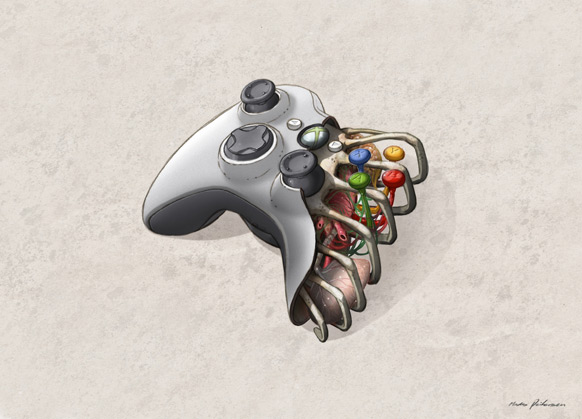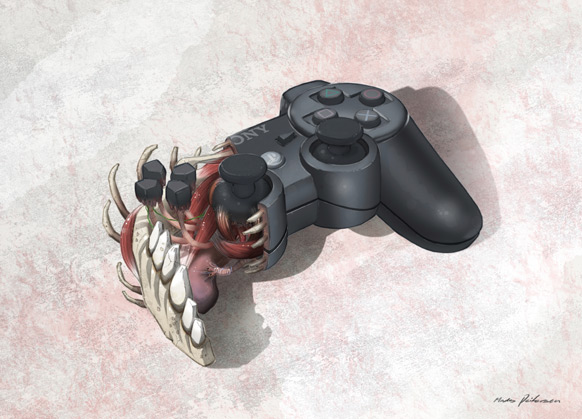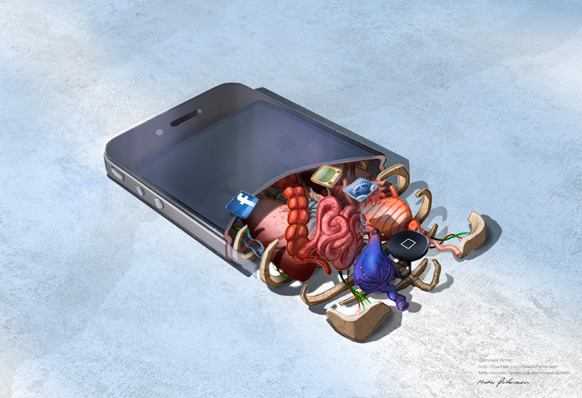 Varje månad hjälper jag speltidningen LEVEL att sammanställa material till deras nya avdelning Galleri LEVEL. Här presenteras konstnärer från alla världens hörn tillsammans med deras personliga tolkningar av välkända spel.
Inför galleriet i oktobernumret av LEVEL, intervjuades mannen bakom den omtalade illustrationsserien anatomin av en handkontroll – nämligen den danska konceptkreatören Mads Peitersen. Nedan finner ni den längre versionen av intervjun.
Berätta lite kort om dig själv.
My name is Mads Peitersen. I am 31 years old and I live in Copenhagen Denmark. I have worked with everything from creating art for animated TV-series to AAA Game titles. Today I work as a concept artist at Advance, creating advertising and concepts for Lego and our own secret projects.
Har du någon koppling till spelindustrin?
I used to work for IO interactive in Denmark. Creating art and levels, which was a super cool experience. I was a level designer and storyboarder working at FreedomFighters, K&L and the Hitman games.
Vad var din tanke bakom dessa målningar?
The idea was that these gadgets are becoming so advanced and cool today that we almost treat them as if they were alive. In a way gamers become attached to them:) After you have had your Xbox 360 or PS3 for while you slowly begin to see yourself as connected to these brands or gadgets. They almost become an extension of yourself or your hands. Its not to talk about Fanboy relations that one is better than the other. It is the feeling that we connect and attach to these machines individually.

The metaphor is that a really rather simple and very dead gadget gives people a feeling of being more present, more alive. And they relate in larger degree with these gadgets almost on a par with a pet or a friend! Even punish them if the fail in a game. As an old gamer I know all these little habits all too well haha.
Vart finner du din inspiration?
I try to stay tuned with what is happening. Following trends on the internet, exploring new styles that are being developed an so on. Actually one of my foremost inspirations as an artist is good old fashioned novels and books. Here i find everything from science, history, fantasy the occult and so on. Its brilliant. What inspired me to create the "Anatomy series" was a picture reminiscent of the anatomy of a gummy bear and the original Wii anatomy controller by artist Moramarco called "wii-habilitation".
Hur ser ditt spelintresse ut?
I used to play A LOT of games. Now I wait for the right game and then focuses more on that experience. My absolute all time favourite game is Oblivion, and that's probably also the game I've spend most time on ever. Right now I cant wait to try the new Monkey Island II Special Edition. I just finished downloading it on XBLA.
Något du vill tillägga?
Thank you for your interest in my art. I was stunned to see the reactions of my drawings.